Listen and move. Play and grow. This is Kindermusik, the most trusted music and movement program for infants, toddlers, preschoolers, and young children.
Kids of Harmony is excited to incorporate Kindermusik into its preschool program. Kindermusik is an exciting and enriching music curriculum that nurtures and develops the whole child. Children will strengthen their social interaction, self-esteem and fine motor skills. Along with singing, moving, and exploring, children will develop a lifelong love for music as well as learning.

Imagine That!
His blanket becomes a superhero's cape. A cardboard box doubles as her princess castle. Pots and pans become a drum set. And she sings all the time. Sound like someone you know? Every day brings a new discovery as your preschooler slowly opens the doors of individuality and independence.
Using the power of music, Kindermusik's Imagine That! taps into your preschooler's creative spirit and boundless energy and focuses on developing their learning strengths and self-confidence so they'll be ready for school, prepared for future music lessons...or able to leap tall buildings.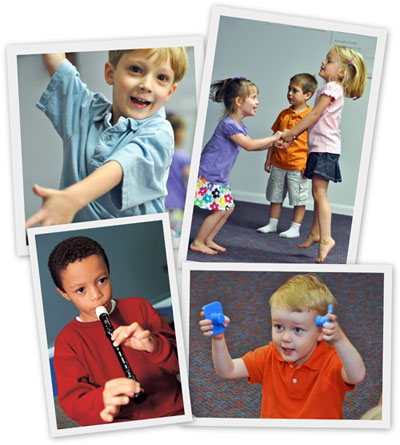 What you'll experience in class
Pretend Play. Pretend play activities are integrated with music, vocal development, storytelling, listening, movement and literacy aspects of each class. When based upon a child's real life experiences, pretend play helps develop language, sensory, motor and cognitive skills.

Musical Variety and Singing. Activities include a mixture of musical genres and styles and provide a setting for your child to explore his many voices and to use a "singing voice." Singing helps with memory and recall, physical development, creativity and socialization.

Storytelling and Literacy. Each class is built on the development of a story, so you'll hear preschoolers search for the word to say what they mean and try to keep up with their busy minds, emerging wants, needs, likes, and dislikes.